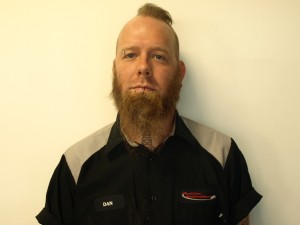 Dan is our lead painter.  Dan has over thirteen years experience in the industry.  Dan's attention to detail in paint prep and final paint has won him several best paint and best graphics awards in the industry.  Dan and his work have been been featured in many magazines to include the cover of Super Chevy in January '09.
Dan's artistic skills include airbrushing motorcycles, custom color, design, layout and painting of flames.  Dan recently had a client's Challenger featured on Spike TV that showed the flames that he had painted.
Dan 'likes to take his work home', he has built several custom and classic cars, currently of which is a '54 Pontiac that he is restoring.
Dan's favorite projects:
http://blog.powerblocktv.com/?p=1979